Zhang Xiaogang
A Big Family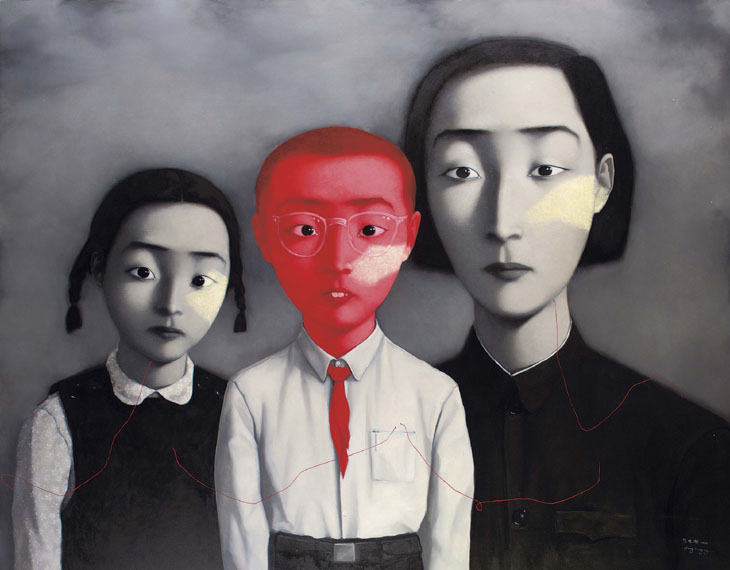 Zhang Xiaogang
A Big Family
1995
Oil on canvas
179 x 229 cm

Inspired by family photos from the Cultural Revolution period, as well as the European tradition of surrealism, Zhang Xiaogang's paintings engage with the notion of identity within the Chinese culture of collectivism. Basing his work around the concept of 'family' –immediate, extended, and societal – Xiaogang's portraits depict an endless genealogy of imagined forebears and progenitors, each unnervingly similar and distinguished by minute difference.

Often painted in black and white, Xiaogang's portraits translate the language of photography into paint. Drawing from the generic quality of formal photo studio poses and greyscale palette, Xiaogang's figures are nameless and timeless: a series of individual histories represented within the strict confines of formula. The occasional splotches of colour which interrupt his images create aberrant demarcations, reminiscent of birth marks, aged film, social stigma, or a lingering sense of the sitter's self assertion.

Incorporating the aesthetic of traditional Chinese charcoal drawing, Xiaogang's style wavers between the exaggeration of animation and stoic flatness. Muted and compliant, Xiaogang's extended family convey individual identity through their unalterable physical features: too big heads, tiny hands, long noses, and subtle alterations in hairstyle give clues to intimate characteristics and stifled emotions. These dream-like distortions give a complex psychological dimension to Xiaogang's work, heightening the tension of regulated claustrophobia, and initiating suggestive narrative readings.